Decorative flags are primarily utilized as outdoor decor to celebrate the seasons & holidays. They provide aesthetic value to your home, lawn or garden for guests and onlookers.
Outdoor decorative flags rank among the most preferred forms of exterior home decor because they are relatively inexpensive and built to last for years to come.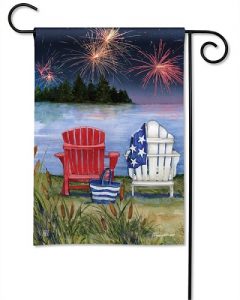 The Significance of Placement:
First, determine whether to purchase a garden size flag or house size flag. This is relatively easy because the dimensions of the area you wish to display the flag in usually dictate the size of the flag you will need to fill the space.
Secondly, make a stronger or bolder statement in larger spaces by clustering multiple flags in varying sizes that coordinate based on theme or color. Remember more is not always better. Over saturation of any item is never a good idea. Displaying groupings of two or three flags clustered together in one spot carries more impact that 4 or 5 flags sparsely spread throughout the space.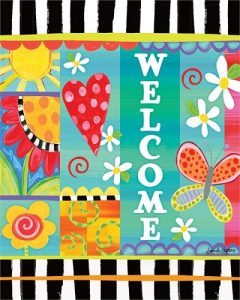 Colors & Themes:
Decorative flags come in a plethora of colors and themes from which to choose. When determining flag color, keep in mind the present color(s) of your home. Matching the primary color of your home will decrease the impact of the flag. Using colors that coordinate or contrast with the color of your home increase the impact of the flag and tend to captivate the attention of passersby.
The color of a flag can make all the difference when it comes to highlighting areas in your garden. For instance, darker colored flag work better in areas with a sufficient amount of lighting such full sun or partial sun. Whereas, brighter colored flags boast a vibrant hue in both dimly lit or shady areas.
The theme of a flag is the image or content printed on the flag. Themes include seasonal flags, holiday flags, special occasion flags, snowman flags, whimsical flag and elegant flags. We find it is best to choose one look you wish to achieve. Do you want a whimsical Halloween flag theme? Followed with an elegant Christmas flag theme? By not mixing themes, you keep a cohesive look which provides greater impact.
Well thought out color schemes and themes provide dramatic visual impact that make a great first impression of your home & garden.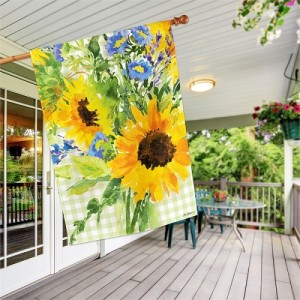 Refreshing Your Garden:
Refreshing your garden is quick & easy with garden flag. With so many cool flags to choose from it's best to plan out the desired impact you want your garden to make each passing season and holiday.
Changing out your flags will help them last longer. For example, welcome Winter by hanging a seasonal Winter flag in early December, but change it out two weeks before the holidays with a Christmas Flag. After christmas hang a New Year's flag that can be changed out for the original Winter flag you put away a few weeks ago.
At GardenHouseFlags.com we receive customer feedback about how neighbors comment on how they love the various beautiful flags our customers fly year round, based on seasons and holidays.
GardenHouseFlags.com is your one-stop destination when it comes to home décor flags and garden accessories. If you are looking for an inexpensive way to refresh your exterior Christmas or other holiday decor try decorative house flags or mailbox wraps?
If you are just starting to explore the creativity that garden flags provide, then take advantage of our discount flags in clearance. Sign up for our weekly newsletter to receive exclusive discounts.