Decorative house flags are made of durable, high-quality fabric that is designed to withstand outdoor weather conditions. However, some handy tips may still benefit you in getting as much value as you can out of your garden flags. These tips can stretch its lifespan by a substantial margin.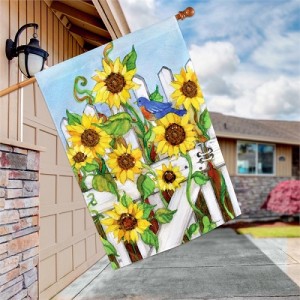 Hanging Tips
Ensure the flag you are hanging is designed outdoor use. Additionally, check to ensure the flag pole is free of rust, scale or dirt. Corroded or rusted poles may quickly damage your house flags. For better appearance, we recommend steaming or ironing your garden flags prior to displaying.
Cleaning Your Flag
By cleaning your flag regularly to remove dust, dirt and other debris, you will prevent similar contaminants from getting set into the fabric. Proper cleaning will help retain bright, fresh colors while increasing the life of your garden flags.
Storage
Never store, roll up, or fold your cool flags when wet. Dampness may lead to discoloration, fungus, mold or mildew that damages your flag. Before storing or folding, it is important that you completely dry your flags.
Harsh Weather Tips
During harsh weather conditions like hailstorms, snowfall, heavy rains, storms, and high winds, we strongly urge you to take down your outdoor flags. Such weather conditions accelerate the wear and tear of flags and lead to damage. Wet flags are heavier, and when exposed to strong winds, their stitches and fabric may be strained. This further accelerates damage.
Maintenance And Repair Tips
Tear to ends or minor damages, if left unattended, may lead to irreparable damages to your flag. It is important that you periodically check the "fly" end of your flag for wear and tear signs. The thread breaks and small rips in the ends can easily be fixed by re-hemming and trimming off. Small tears may be machine sewn or hand-stitched.
Maintain Backup
By following the above-mentioned tips, you can dramatically increase the life of your flags. However, we recommend more than one flag for ardent flag lovers. Changing out flags based on seasons and/or holidays means less weather exposure a flag endures. A flag collection celebrating all seasons and holidays will last much longer than a single flag flown year-