When it comes interior decorating, homeowners have always been innovative. There are many stores that provide home décor to assist in unleashing our creative side and assist in making our home's interior a self-expression that reflects our personality.
However, when it comes to outdoor décor, many homeowners don't know what to do. They usually limit themselves to the garden gnomes and/or garden pots. These items are just the tip of the iceberg when looking for outdoor garden décor.
Here are four items that provide bursts of color and personality to your home & garden. We think you will also appreciate how quick & easy they are to install. They allow easy changing out to celebrate every holiday, season or occasion.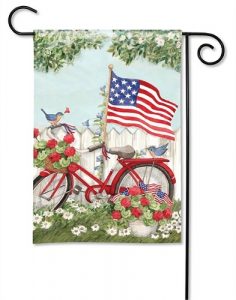 Outdoor Decorative flags come in two sizes – Garden Size (small garden flags are 12.5" X 18") & House Size (Large garden flags 28" X 40"). They come in a wide variety of themes & designs. Therefore, outdoor flags make it easy to reflect your personality in the garden. If you love birds, there are bird flags. If you love Easter, you can find Easter house flags that welcome guests a variety of ways from whimsically to elegantly. There are so many cool flags from which to choose that you can celebrate any occasion, season or holiday.
2. Yard Signs & Address Plaques:
Magnetic yard signs & address plaques are growing in popularity because they are so easy to change out for every season & holiday. The two-piece system consists of a metal stake that easily pushes into the ground and holds interchangeable 14" X 10" magnetic decorative signs. When the holiday is over, you simply remove the magnetic yard sign and replace it with another. Their durable construction allows for year-round use.
3. Mailbox Wraps?
Mailbox Wraps (6.5" X 19") are decorative vinyl wraps with magnetic strips that go over standard metal mailboxes and provide an instant holiday or seasonal spruce to boring mailboxes! Make your easily ignored or overlooked mailbox a welcoming focal point for guests.
4. MatMates & Doormats:
Decorative doormats are an ideal way to welcome guest because they rest right at your door stoop. They provide family & friends something of interest to focus on while waiting for the door to be answered.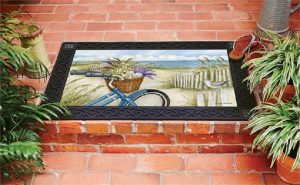 Decorative doormats are a two-piece system. A black recycled rubber tray which holds an interchangeable decorative MatMate. They come in an array of themes & designs that coordinate with flags, yard signs and mailbox wraps.
At GardenHouseFlags.com is America's favorite online garden store. We take outdoor décor seriously because we understand the impact first impressions make. First impressions of our homes don't start within the home but are formed on the visual journey starting at the mailbox, meandering through the garden and ending on your doorstep.
GardenHouseFlags.com encourages homeowners to be playful with outdoor décor. If nervous then stat with our discount flags in clearance. Know that GardenHouseFlags.com has your outdoor decor covered.