The Winter holidays are the most festive seasons of the year – why not celebrate the spirit of snowy holidays in style with our amazing, vibrant collection of flags. Here are the top five winter flags that can make your home stand out by providing warm, positive, and festive vibes:
Whether you use it to enhance the outlook of your house with a flag pole or plant in your garden using a garden flag stand. Add more to the curb appeal by hanging a real pair of wool mittens on the flag stand.
How would you feel about jazzing up your garden for a change? At GardenHouseFlags.com, you can find the Whimsical Snow Globe Garden Flag. It reveals a snowman dancing with snowflakes in the background, singing Let it Snow. So this December, you can jazz up the overall aura of your garden with our fade-resistant flag. Send happy thoughts and Christmas blessings to your neighbors, friends and family by greeting them with a warm flag in your front yard. After all, Christmas is all about spreading love, happiness, and warmth.
During the Christmas season, the color red will attract attention amid the sea of white snow. Christmas Cheer Flag portrays three snowmen dressed in red as they stroll about caroling. Displaying this flag outside your house is an amazing way to send Christmas blessings and cheers to everyone who passes by your home. To enhance your flag choice, you could add a Christmas-themed vibrant mailbox cover to your Christmas décor.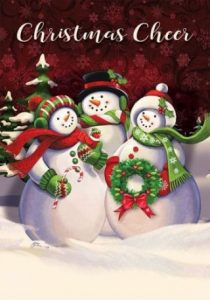 If you are the kind of person who likes hosting holiday parties, especially on New Year's Eve, you should clearly mark your festivities with the New Year Toast Garden Flag. As welcoming as it sounds, it is also a fun and special way to let your neighbors and friends know that you are having a New Year's Eve Party.
If you enjoy watching birds, we've got plenty of Winter bird flags from which to choose. The Cardinal and Pines decorative flags adds the red warmth of a cardinal perched in pine branches. This magnificent bird's color contrasts againsts its snowy backdrop.
We offer a wide variety of winter fade-resistant and affordable flags to embellish your curb appeal. You can hoist House and Garden flags according to your personal taste – whether you are an extrovert who likes to host parties or an introvert who wants to enjoy a peaceful Christmas evening with a few select friends, we have something for everyone. So, if you want to set your home apart from all the rest, visit GardenHouseFlags.com to find amazing garden décor items.