Grandparents love their grandkids.  They look forward to their visits. As grandparents we look for ways to add to our grandkids excitement during those special visits.  By displaying child or grandparent themed flags we express our devotion while making our little ones feel even more special. You may also choose themed flags that capture your grandchild's current interest, such as cats, dogs, butterflies, insects & etc.
You may also use other garden accessories that will interest your grandkids during their visits.  Here are 3 garden decor accessories that are of special interest:
1. Birdbaths
Kids love to watch birds fluttering about in the water of birdbaths.  Our amazing birdbaths are available in several different designs, colors and themes to grab the attention of both your grandkids and the birds around your home. At GardenHouseFlags.com, you can find an extensive range of decorative, elegant, and stunning Birdbaths including:
Butterfly Haven Birdbath
Dragonfly Hanging Birdbath
Fisher-boy Sundial Birdbath
Choose Happy Birdbath
Fun Flowers Birdbath
Grow in Grace Birdbath
Mosaic Watercolor Birdbath
Windjammer Birdbath
Oak Leaf Hanging Birdbath
You can ornament your garden with these aesthetically pleasing Birdbaths – creating a wildlife garden experience to delight your beloved grandchildren.
2. Gazing Balls
Another great way to engage your grandkid is with the use of gazing balls in your outdoor decor. Their reflective finish will grab their attention.  These shiny spheres can invoke a huge WOW factor.  We offer a wide range of colors including:
Blue 
Gold 
Purple
Red
Silver
(and the best one) Rainbow
If you were looking for a perfect accessory to charm your grandchildren, our gazing garden balls can help.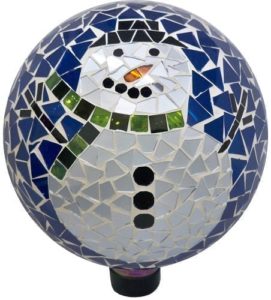 3. Garden Bells
Kids are excited by anything that makes a sound or sparkles? Decorating your garden with bells can help capture their attention visually, as well as, audibally.  Garden bells can infuse a playful, festive aura to your garden. And to make sure these bells to go with your overall garden décor, we offer a vast collection of garden bells including:
Cardinal Ceramic Bell
Bluebird Ceramic Bell
Chickadee Ceramic Bell
Dove Ceramic Bell
Goldfinch Ceramic Bell
Hummingbird Ceramic Bell
Large Country Bell
Medium & Large Country Bell
There are many ways to make your grandchildren's visit special.  At GardenHouseFlags.com we help provide products that engage those that come into your garden – young or old!  Visit us today!